Chemistry classes tie dye t-shirts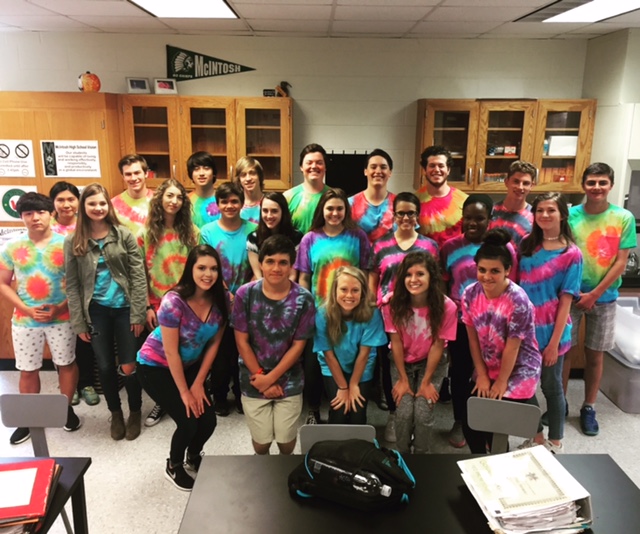 Chemistry students completed a lab where they tie dyed t-shirts on March 30 and 31. Over spring break, students finished preparing their shirts by rinsing and then washing them. Students returned proudly wearing their personal tie-dyed shirts on Wednesday, April 12.
Chemistry teacher Ms. Christina Bryant said, "I have been doing this lab for 20 years in one form or another. My favorite part of the lab is watching students get involved and creative with the designs of their shirts."
Chemistry teacher Ms. Kelly McMahon said, "Mrs. Dowse does a fabulous job of ordering and organizing all of the materials that we need. She makes everything so easy for all of the teachers and students. An army of Beta Club members also helps pre-measure the pigments and premix our dyes. I'm so fortunate that my students follow directions the first time and, honestly, do a great job cleaning up after themselves. These student attributes motivate me to do even more fun and memorable labs with them."
Chemistry teacher Ms. Shelley Dowse said, "The purpose of the lab is to give a real-life application for several aspects of chemistry, one of which is acid base reactions. Any products that have been chemically dyed are examples. I think the lab is as effective as the kids' attention spans allow it to be."
Sophomore and chemistry student Anna Muh said, "Tie dying t-shirts was really fun. It was a really cool way to incorporate what we learned in the acids and bases unit. It made it a lot more interesting since it was so interactive."
About the Contributor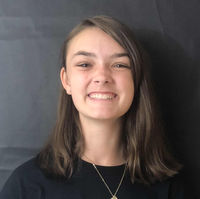 Sylvie Call, A & E Editor
Sylvie Call is a senior at McIntosh and has been with the Trail for three years; this year marks her second as the Arts and Entertainment (A&E) editor....