My hot take on this week's hashtags? TikTok's algorithm is truly a mystery.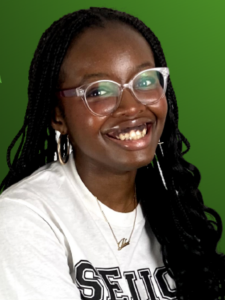 As soon as a video of a "girl dinner" consisting of pretzels and leftover chicken nuggets pops up on my FYP, I can never escape the web that shows what every girl eats for dinner that's similar to what I consume on a daily.
This week, there's been a plethora of videos taken from Coco Gauff's match at the US Open due to multiple instances where she is being treated unfairly and having to defend herself against the person who should be unbiased: the umpire.
Gauff's opponent, Laura Siegemund, was going against the tennis rule that a serve should take no more than 25 seconds, but the umpire didn't seem phased by time being wasted between serves. Gauff went over to the chair umpire and expressed her valid frustrations about the missed time violations and the crowd, as well as the internet, applauded Gauff for her strength and how she handled the situation.
Ariana Grande is still dodging answering questions about her divorce and the alleged affair with her Wicked costar (as she should) and surprised fans at her makeup brand's, R.E.M Beauty, pop-up shop in New York City. Grande also just released a deluxe version of her first album, Yours Truly, in honor of its 10-year anniversary, including live performances of six songs. TikTok Shop has actually taken the world by storm. People are finding inexpensive versions of their faves like Stanley cups, Skims dupes or freeze-dried Skittles.
As we know, Tropical Storm Idalia has been sweeping the East coast and our feeds. Those affected have been expressing their excitement over schools being cancelled and showing in-depth footage from damage Idalia has caused to their homes and their lives.
Now Follow This: My favorite creator of the week is @nicky.reardon. He is a content creator on TikTok who focuses on social strategies and market strategies for celebrities. My personal favorite video is his most recent video where he gave one of the best Superbowl commercial ideas for Bad Bunny to collaborate with the Energizer bunny. It's truly amazing listening to him explain, in detail, different marketing routes that celebs could go and his takes on pop culture today.