PALS Students Perform at Annual Talent Show
Lights, camera, action! The fifth annual 2019 P.A.L.S. (Peers Assisting Learning Support) Talent Show took place in the McIntosh Auditorium on Wed. March 20. The event was hosted by seniors Baba Agbaje and Emma Skaggs. Before the show, stars signed autographs in the auditorium lobby and were able to take pictures with fans.
From music to cooking, students were able to show off their talents in front of both parents and students. Joey Wilson lead the first act by performing a music video to "Happy" by Pharrell Williams. He danced on-stage with fellow P.A.L.S. Club members. Serena Chang was next, and she sang "Do You Want to Build a Snowman" from Disney's Frozen. She wore a snowman costume as she performed. Jaden Gates was scheduled to go next, but, because he could not be present at the show, he was projected on a screen performing scooter tricks. Kenley Coleman performed a baby dance with juniors Allie Silbert and Macy Simon. The performance included all three girls sticking their heads out of a hole in a box, the rest of their body was covered in a baby onesie. The illusion made it appear that they were dancing babies.
Thomas Nguyen, aka "Mr. Olympia" (given to him by his strength) showed off his talent of strength by arm wrestling the host, Baba Agbaje, and deadlifting heavy metals. Jisoo Moon was next but also could not be present at the show, and he was projected on a screen playing the piano. Ashley Brown painted a self-portrait blindfolded of her and an audience member. This is Ashley's first year at McIntosh and first P.A.L.S. Talent Show. Nelson White danced on stage with P.A.L.S. members to artists like Usher and Cali Swag District. "I just went up there and danced. I didn't practice but I was ready," said White. Chandler Limina danced to "Thunderstruck" on-stage with Wix Patton, Wyatt Patton, Luke O'Conner, and Alex Zanebis.
"I liked being on stage with Wix. He's my favorite singer," said Limina. Angel Salinas and Demi Baus danced and sang to "Uptown Funk" and the crowd danced along with them.
"I practiced dancing at home and in Coach Bealls' class," said Baus.
The show concluded with Priscy Blain's homemade cookies which she cooked herself throughout the show in Mrs. Yarborough's room. "The final product was absolutely delicious," said senior Baba Agbaje.
The talent show raised over $200 dollars in door donations in lieu of the show's free entrance. "We are very proud of how our show turned out, but most importantly we were glad to see all the coolest kids in our school have a smile on their face," said senior P.A.L.S. member and talent show coordinator Collin Byrne. "Although it was stressful to put on for us, we definitely felt our hard work paid off because in the end it's all about them and we felt like that was definitely accomplished successfully."
About the Contributor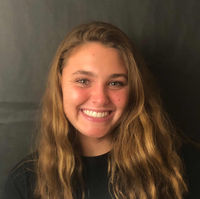 Charlotte Moore, Staff Writer
Charlotte Moore was born on December 2, 2000 in Charlotte, North Carolina. She to Peachtree City in 2006 and began playing soccer when she was seven....