Poetry Out Loud
Hang on for a minute...we're trying to find some more stories you might like.
The 2018 annual Poetry Out Loud Competition took place November 29, where McIntosh students competed against each other in order to go to regionals.
Participating English teacher gives their students the opportunity to perform a poem of their choice in front of the class. Then, those English teachers select a student or students in their classes whom they classify as the "classroom winners."
Classroom winners include Iain Hemenway, Colton Hayes, Naomi Daniel, Marie-Paul Aguegue, Bennett Cate, Jayden Collins, Jessica Cook, Olivia Gentry, Jordyn Mobley, Myah Paster, Meg Sheets, Mary Stephens, Cassidy Walden, Gabi Witucki, Sanaa Wright, and Ashley Zhou.
"Being selected for the Poetry Out Loud competition was a surprise, but I'm glad I did it," senior Bennett Cate said. "I never appreciated poetry before and now that I have a deeper understanding of what it means, poetry is more interesting and beautiful."
All students only have a few weeks to prepare and memorize a poem to perform in front of the judges and their peers. When all of the students finished reciting their poems, the judges went into a separate room to determine the winners.
First place went to Elizabeth Wilson with a recitation of "Quite Frankly" by Mark Halliday. Second place went to Vincente Miranda with a recitation of "Eating Poetry" by Mark Stand. Lastly, third place went to Kotoe Takeda with a recitation of "Cartoon Physics, Part 1" by Nick Flynn. Wilson will continue to represent McIntosh at the regional competition.

About the Contributor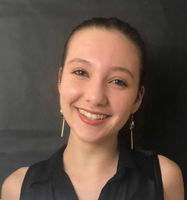 Anastasia Gonzalez, Staff writer
Anastasia Gonzalez is a former Legend Yearbook veteran of three years. She decided for a change she would join The Trail Newspaper Staff at McIntosh High...