In Memoriam: Stan Lee, the Marvelous Man Himself
In 1922, Stanley Martin Lieber was born. At the age of 19, he became Stan Lee on the byline of the May, 1941 edition of the Captain America comic series. Established in 1939, Timely comics became known as Atlas comics in the early 1950s, and then Marvel comics by 1961. On Marvel's official website, they say, " Today, it would be almost impossible to find a corner of the Marvel Universe that Stan didn't have a hand in." He helped to write and bring to life legendary characters like Spider-Man, Thor, Iron Man, the Hulk, Black Panther, the Avengers, the X-Men, and so many more. At the end of many of his comics, he had a column titled "Stan's Soapbox," where he spoke directly to his readers, answering reader questions, calling out bigotry, embracing his fan base. Even after he went from the role of editor-in-chief to the publisher of Marvel comics, he was still incredibly involved with his fan base and the comics. Most younger viewers know him for his cameos in every Marvel movie, ranging from an old flirt to an astronaut to postal worker and more.
"
"You know, my motto is 'Excelsior.' That's an old word that means 'upward and onward to greater glory'. It's on the seal of the state of New York. Keep moving forward, and if it's time to go, it's time. Nothing lasts forever."
— Stan Lee, in a 2014 interview
At the age of 95, Stan Lee left our world on November 12, 2018. Marvel's actors, writers, associates, and more all posted on various social media sites celebrating his life and remembering their friendships with him. Fans mourned for the comical comic writer, and also thanked him for the legacy and imprint he has left in his wake. They placed decorations, candles, and flowers around his star on the Hollywood Walk of Fame.
I have not read the original comics, but the Marvel franchise — movies, action figures, stories — have been a part of my life since I was a little kid. I can remember watching the original Captain America in the office at my old house, the green carpet and my knees folded up to my chest in the black "spinny chair," eyes glued to the now ancient desktop screen. To this day, I have to say that Captain America: The First Avenger has to be my favorite Marvel movie. Stan Lee has been a background character of my entire life, and I'm heartbroken to no longer have that there. We are so lucky to have had this much time with the brilliant writer and overall incredible person, but at the same time, there could never have been enough time.
For fellow Marvel fans, rejoice in his life and know that he has set up the franchise so well for us. There are still brilliant writers and producers with movies to come, and Stan Lee filmed at least one cameo — for Avengers 4 — in advance because he knew that this day was coming. He lived a full, impactful life, and he died in a world that will remember him throughout the centuries. Stan Lee was, is, and always will be legendary.
About the Contributor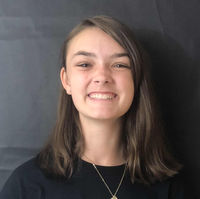 Sylvie Call, A & E Editor
Sylvie Call is a senior at McIntosh and has been with the Trail for three years; this year marks her second as the Arts and Entertainment (A&E) editor....