The McIntosh Talent Show
Hang on for a minute...we're trying to find some more stories you might like.
The 2018 annual McIntosh High School Talent Show kicks off September 21. Two days of auditions lead to 16 acts that made it through. The participants who qualified to perform include Abigail McMichen, Clayton Lawhead, Lydia Campbell, Diamond Nguyen, Ryan Robertson, Kalani Gella, Colton Hayes, Ann-Charlotte Langet, Anastasia Gonzalez, Lain Hemenway, Olivia Bell, Amy Negrete, Xenia Jitomo, Braylin Bennet, Hope Hartley, Kotoe Takeda, Noah Oul, Sarah Waymon, Cole Sanford, Austin Carmichael, and Collin McKinnon.
All performers competed to win either 1st, 2nd, or 3rd place. Added to the awards, this year the performers had a chance to win the audience's favorite award. Each person who attended the Talent Show could turn their ticket in to vote for an act they thought should win the audience's favorite award. The attendants could also pay additional money to put in extra votes for their favorite acts.
The winners were announced at the end of the show. The 1st place trophy and prize of $250 went to Lydia Campbell for her musical performance.
"I was actually really scared about my song to begin with," said junior Lydia Campbell. "I'd never been so scared for a song, I almost changed it actually. I was going to do something different but then I was like no that's just quitting, that wouldn't work out. So in a way it felt like the work paid off. It's cheezy but it's true," Campbell said.
The 2nd place trophy and prize of $150 went to Braylin Bennett and Hope Hartley for their musical duo. Lastly, the 3rd place trophy and prize of $50, and the audience's favorite award went to Ryan Robertson for his comedy act.

About the Writer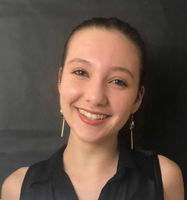 Anastasia Gonzalez, Staff writer
Anastasia Gonzalez is a former Legend Yearbook veteran of three years. She decided for a change she would join The Trail Newspaper Staff at McIntosh High...