Book club beat
Hang on for a minute...we're trying to find some more stories you might like.
McIntosh has a new book club called "A Thousand Lives," a name of which comes from the quote that was painted in the media center last year: "A reader lives a thousand lives before he dies. The man who never reads lives only one," from author George R.R. Martin. The club had its first meeting on Thursday, August 30, but for students who missed the meeting, it isn't too late to join! The next meeting is September 27. The books that they are currently reading are Throne of Glass by Sarah J. Maas and The Thing With Feathers by McCall Hoyle. Books are selected from the TOME Society's "It List," as well as student suggestions. Ms. Emily Hodge is the media center specialist and the club sponsor. She said, "Our mission is to experience life through the characters in the books we read so that we can better understand others who are different than ourselves."

About the Writer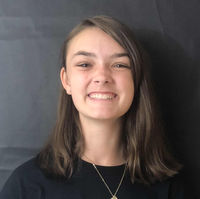 Sylvie Call, A & E Editor
Sylvie Call is a senior at McIntosh and has been with the Trail for three years; this year marks her second as the Arts and Entertainment (A&E) editor. She is a co-editor for the school's literary magazine, MisChief, and a co-captain in the Spirit of McIntosh colorguard. In addition, she is in the National Society of High School Scholars, National English Honor Society, and Quill and Scroll. This summer, she was part of the University of Iowa's Writers Workshop online program, and she reads and writes during her limited free time.