Double Sided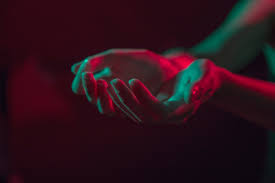 Hang on for a minute...we're trying to find some more stories you might like.
Take off those rose colored glasses
Get your head out of the clouds
Stake yourself to the ground
And face the music.
She has ripped off your angel wings
And let you fall into hell.
When you came out on the other side, barely clinging to life,
She called you weak.
She screams into your ear
Demanding to be given attention.
The only thing you can focus on anymore is her
And her cutting words.
She is malicious.
She is malignant.
She won't stop until you are dead –
Only then will she be satisfied.
But still,
She is comforting
When the world is crashing down around you
She will wrap her arms around your waist
And run her hands through your hair.
Her fingers give you everlasting
Beauty and grace.
And control.
"If you listen to me you will be happy."
She will tell you this every morning.
As soon as you wake up she is there for you.
She is shaped like an old friend.
The kind that doesn't wait for any invitation,
The kind who overstays their welcome.
She is loud and obnoxious
And she is a part of you –
You will be weighed down by her probably forever.
But if you're lucky
You pick yourself up
And learn to live without her comfort,
And without her influence.
You will learn what it's like to live again.