"Stranger Things 2" as Iconic as First Season
Hang on for a minute...we're trying to find some more stories you might like.
Netflix released the long-awaited "Stranger Things 2" on Oct. 27th. The iconic original show was an enormous success, so everyone had been counting down since season 1 dropped last year. I had previously planned to ditch the football game Friday and binge watch it when I got out of school with some friends and, of course, eggos. I tried desperately to avoid spoilers on social media, which seemed impossible.
Within a few minutes, I was astonished by how much the main characters had matured in the last year. Of course, I knew they were going to grow older, but you don't realize the drastic changes a year can make until you see flashbacks from season 1.
New characters in "Stranger Things 2" include Max, her older brother Billy, Joyce's new boyfriend Bob Newby, the mysterious Kali, who shares a past with Eleven at Hawkins Lab, and the secretive Murray Bauman.
As soon as Max was introduced, I knew she was pretty awesome. She carried herself in an intimidating way and dressed herself with confidence. Her brother, Billy, is clearly trouble from the start. I honestly thought he was a crackhead because he's introduced yelling and casually drives 30 over the speed limit in his sports car. Upping his psycho level is that he picks fights and laughs while there is blood coming out of his nose and he is spiting out blood. Every time Billy arrived on screen, I would find myself uneasy. He did a fantastic job portraying the bad guy.
Bob Newby (Sean Astin) is introduced as Joyce Byers' (Winona Ryder) new boyfriend. At first, I wasn't sure how I felt about him, but he made Joyce happy, so I decided that I liked their relationship because of all she's been through. Her son, Will Byers (Noah Schnapp), seems fond of him, but her older son, Jonathan Byers (Charlie Heaton), is not crazy about the new guy in the family.
Steve Harrington (Joe Keery) arrived on screen with hair just as nice as last season. Steve's character developed so much in this season and is probably one of my favorite characters now because of it. In the beginning of season 1, Steve was a bit of a bully and was inconsiderate, but now he and Nancy Wheeler (Natalia Dyer) have an adorable relationship and you can tell how much he turned himself around. Their relationship wavers a bit with Jonathan in the picture, which makes things interesting. Steve also gets closer to the kids and is protective over them, which I love. When Dustin realizes he needs help, he goes to Steve. Whenever trouble arises, he and his iconic baseball bat are on front line.
Eleven's character appears with her shaved hair grown out in curls, looking like a farmer in overalls and flannel. She stays hidden away from the world with Hopper (David Harbour) in a secluded house in the woods. I was not as much in love with Eleven's character this season until the end, when she met Kali, a girl who shared a similar past and who totally changed the game. It was fun to watch Eleven's character transform under Kali's influence. She changed her soft curls to a slicked-back look and traded her overalls and flannel for a leather jacket and cuffed jeans.
The last 3 episodes had me on the edge of my seat, but I just was not satisfied at the end. It felt rushed. There were so many alternating plots, and at the end it felt rushed and sloppy. I still loved the whole season and what the show's writers, the Duffer Brothers, have done. I enjoyed the new season as much as the last, and I'll find myself watching it again at some point while I wait for Season 3. (I'm being hopeful, here, but the last 40 seconds of episode 9 seemed to leave the plot open for a third season, and while it has not been confirmed, there are rumors floating around."

About the Writer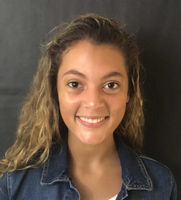 Katrina Skonberg, Opinions Editor
Writer Katrina Skonberg is the McIntosh's Trail Opinion Editor for her second year. Outside of journalism, Katrina runs for cross country, swims on McIntosh's...