McIntosh Marching Band selects 2017 season drum majors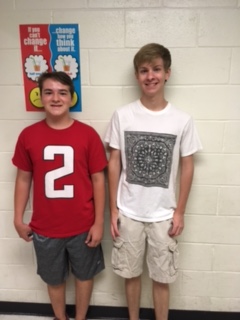 Band students attended leadership training and leadership tryouts during the week of May 1-5. The tryouts for drum major consisted of a salute, an interview, application of leadership skills, basic conducting and conducting a prepared song. Three judges scored each of the fourteen candidates on these criteria. The drum majors for the 2017 marching band season were selected May 5; they are rising senior Duffy Weldon and rising junior Brett Goss.
Brett said, "It is so incredibly amazing to be one of the drum majors. I am so honored to lead this band alongside Duffy. He is a great person to work with because he has such great enthusiasm and efficiency. Duffy is also one of my closest friends, and I feel that we can work extremely well together this season."
Ms. Barbara Baker, band director, said, "I hope that Duffy and Brett have a great experience as our 2017 drum majors. I hope that they work together as a team throughout the season. Most importantly, I hope they have some fun along the way and learn more about themselves."
Ms. Michelle Amosu, assistant band director, said, "I hope and know that Duffy and Brett will be kind, productive, and influential to our success in next year's marching season. Their leadership will take the band to perform to the best of their abilities, just like every past drum major has been able to do. I know that they will strive for the best and continue to grow as young musicians and performers."
About the Contributor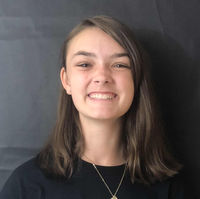 Sylvie Call, A & E Editor
Sylvie Call is a senior at McIntosh and has been with the Trail for three years; this year marks her second as the Arts and Entertainment (A&E) editor....