Orchestra performs spring concert
The McIntosh orchestra performed their end of the year concert in the auditorium on Friday, May 5. All of the orchestra classes performed three pieces, which were selected through both teacher and student input.
The concert began with "Dvorak American suite for string quartet," performed by Kylie Dickinson on first violin, Jennifer Deng on second violin, Marianne Richter on viola, and Yuheon Lee on cello. The beginning orchestra class played the first two movements of Telemann's "Don Quixote Suite for Strings," "Music of the Night" from the musical "Phantom of the Opera," where Mr. Hagberg played the piano accompaniment, and they finished off with Badelt's composition of music from "Pirates of the Caribbean: The Curse of the Black Pearl."
The intermediate class played "Vanguard Overture," composed by Richard A. Stephen, "I Dreamed a Dream" from the musical "Les Miserables," and Zimmer's "Pirates of the Caribbean: Dead Man's Chest."
The advanced class played the "'Prelude' from Holberg Suite for Strings," "Elegy for String Orchestra," "Bailes para Orquesta," and "Bohemian Rhapsody" with the eighth grade Booth orchestra.
The song "Elegy" is one of Mr. Hagberg's own pieces, composed after the death of his sister. Senior and first cellist in the advanced class Melina Le said, "'Elegy' was my favorite piece that we played. The emotion that comes from that piece is unlike any other piece that I've played before in orchestra class."
As the final concert of the 2017 school year, the seniors were given a special highlight. There was a slideshow that displayed pictures of all of the seniors, and the seniors were called to the front to announce their college and to receive a blanket, embroidered with their name.
Mr. Hagberg said, "I want my students to gain the ability to know how to practice so that they can continue to grow and improve. Practicing incorrectly is not going to help you improve at all, especially not with material you've never seen before. I want my students to understand that music is like a language because you have to be able to understand it, not just read it."
About the Contributor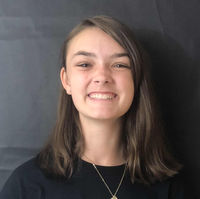 Sylvie Call, A & E Editor
Sylvie Call is a senior at McIntosh and has been with the Trail for three years; this year marks her second as the Arts and Entertainment (A&E) editor....