"Cinderella" spring musical entertains sold-out crowds
The annual McIntosh spring musical for the 2017 school year was "Cinderella," performed on February 2, 3, and 4. The directors were drama teacher Mr. Kenneth Buswell and chorus teacher Ms. Hannah Beth Potter. There were 38 actors and actresses, 15 technical theater members that helped out behind the scenes, and 16 fine arts students in the orchestra. The show was sold out for two out of their three performances.
Directors and students had been working on this play since November 28. The rehearsals lasted anywhere from one to five hours, and weekend rehearsals were up to eight hours long. During tech week, students stayed as late as 9 p.m. Lead actors and actresses often met to go over lines and songs on days without rehearsals.
Junior Kaitlyn Rodriguez said, "I was an ensemble member in the cast of "Cinderella." Although the directors were extremely hard on us sometimes, the show was amazing, and it truly felt like I was living in a fairy tale. The cast was phenomenal and great to be a part of, the sets were some of the biggest and best we have ever had, and the costumes were perfect and so fun to put on every night for the show. This show was a dream, and even through the sweat and tears, the experience of it all was so amazing."
About the Contributor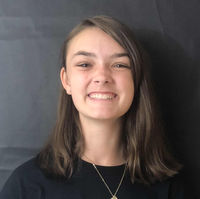 Sylvie Call, A & E Editor
Sylvie Call is a senior at McIntosh and has been with the Trail for three years; this year marks her second as the Arts and Entertainment (A&E) editor....