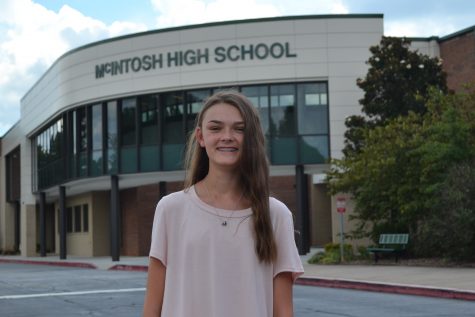 Sophomore Sylvie Call (15) was born in Iowa but spent most of her childhood in Marietta, Georgia. Her parents - her father, a caretaker for the severely autistic and her mother, a midwife - moved to Peachtree City three years ago for career opportunities. The oldest of four children, she constantly finds herself in the midst of a hectic household. In high school, she's always leaned towards literature and arts classes, trying her best to load up her schedule with outlets for her passion. Journalism was not one of her first choices, but she is happy that it worked out this way. She plans to bring a friendly attitude into the classroom and looks forward to covering stories on the fine arts.
Though Sylvie hopes to pursue a career as an author at Emory University, she has a strong interest in the fine arts as well. She is going on her second year as a member of the MHS Colorguard and Marching Band. Her favorite part about it, she says, is the performance aspect. "Marching band is a family," she said. Sylvie believes herself to be an extrovert who loves performing.
Her favorite school subject is English because it is the base structure for her passion in writing. "The idea of creating something new and original" appeals to her.  "A lot of people don't like to write because they think it's hard, but that's what's appealing about it. I mean, you're creating something new that you wouldn't get to experience otherwise," she said.
Sylvie Call, Staff Writer
Aug 31, 2017

Solar Eclipse Visits McIntosh

(Story)

Aug 29, 2017

An Exercise in Futility: The Rainy Football Scrimmage

(Story)

Aug 28, 2017

The "Great American Eclipse" passes over Peachtree City

(Story)

May 22, 2017

2017 edition of McIntosh literary magazine MisChief released

(Story/Photo)

May 15, 2017

McIntosh Marching Band selects 2017 season drum majors

(Story/Photo)

May 10, 2017

Orchestra performs spring concert

(Story/Photo)

May 04, 2017

Library celebrates national "Poem in Your Pocket" Day

(Story)

May 02, 2017

Foreign language classes raise money for Relay for Life

(Story/Photo)

Apr 17, 2017

Chemistry classes tie dye t-shirts

(Story/Photo)

Apr 12, 2017

School opinions on the SPMs

(Story)

Mar 24, 2017

Media center continues updates

(Story/Photo)

Mar 24, 2017

Latin Club meet to "kill Caesar"

(Story/Photo)

Feb 14, 2017

"Cinderella" spring musical entertains sold-out crowds

(Story)

Dec 06, 2016

Varsity Lady Chiefs basketball faces Alexander High School Cougars

(Story/Photo)

Dec 06, 2016

McIntosh fine arts students show off their talents in the annual Fine Arts Day

(Story)

Nov 28, 2016

Marching Band holds banquet to celebrate end of 2016 season

(Story)

Oct 25, 2016

Students show school spirit during Homecoming week

(Photo)

Oct 31, 2016

Foreign language students recite poetry in auditorium

(Story/Photo)

Sep 28, 2016

Chiefs choose between DC and Marvel Universes

(Story/Photo)

Sep 19, 2016

Students attend first Latin club meeting

(Story/Photo)

Aug 26, 2016

Blackboard causes headaches for teachers

(Story/Photo)