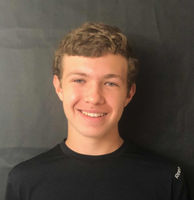 The 2018-19 school year marks junior Jackson Stone's second year with the
McIntosh Trail.
Jackson currently writes for the Trail along with
Atlanta Sports Headquarters
, a local sports blog. He loves writing and his favorite subject has always been English. Throughout his time in the field, Jackson has been lucky enough to interview athletes like NBA player Taurean Prince and UNC basketball player Cam Johnson. He hopes to major in journalism in college and pursue a career in the journalism field.
Jackson Stone, Staff writer
May 10, 2019

The Senior Legacy of Anna Muh

(Story)

May 06, 2019

JV track team holds third meet

(Story)

May 06, 2019

Remembering Prince on the third anniversary of his passing

(Story)

Apr 16, 2019

No, Auburn did not lose because of the refs

(Story)

Mar 12, 2019

"Leaving Neverland" demonstrates how not to make a documentary

(Story)

Mar 12, 2019

91st Academy Awards take place

(Story)

Feb 01, 2019

Atlanta Prepares for Super Bowl LIII

(Story)

Jan 15, 2019
Dec 14, 2018

OPINION: The issue with old tweets

(Story)

Dec 06, 2018

OPINION: College football playoff committee reveals it has no backbone

(Story)

Nov 16, 2018

The Trail's College Football Picks of the Week!

(Story/Media)

Nov 16, 2018

Former Chief Jordan Lyons ties NCAA record

(Story)

Nov 13, 2018

NBA Season Preview

(Story)

Nov 13, 2018

Multicultural Club holds second meeting

(Story/Media)

Aug 31, 2018

The Trail Staff's College Football Picks of the Week – Aug. 31

(Story/Media)

Nov 02, 2018

The Trail's College Football Picks of the Week

(Media)

Oct 21, 2018

NFL rejects Atlanta music culture with halftime performance decision

(Story)

Oct 21, 2018

The Trail's College Football Picks of the Week – Oct. 20

(Story)

Aug 28, 2018

Students Show Concern for Potential Bacteria in Popular Snack

(Story)

May 22, 2017

Newspaper students celebrate year at Your Pie

(Story/Media)

May 15, 2017

Students comment on Milestones preparation

(Story)

May 15, 2017

Freshmen reflect on first year

(Story/Media)

May 12, 2017

Students celebrate Star Wars Day

(Story/Media)

May 12, 2017

Milestones schedule needs to improve

(Story/Media)

May 12, 2017

Students give NBA Playoffs predictions

(Story/Media)

Apr 12, 2017

Beta Club inducts new round of students

(Story/Media)

Mar 29, 2017

Freshman baseball player suffers sternoclavicular sprain

(Story/Media)

Mar 24, 2017

Students share March Madness predictions

(Story/Media)

Mar 24, 2017

Freshmen read "To Kill a Mockingbird"

(Story/Media)

Jan 27, 2017

Students share New Year's resolutions

(Story/Media)

Jan 26, 2017

Baseball and soccer teams announced

(Story/Media)

Dec 13, 2016

Students react to TIME Person of the Year

(Story/Media)

Nov 18, 2016

Freshmen adjust to post-election life

(Story/Media)

Nov 10, 2016

Students split about MLA formatting

(Story/Media)

Oct 25, 2016

Students insist upon clown sights in PTC

(Story/Media)

Oct 17, 2016

Students express opinions about homework

(Story/Media)

Sep 28, 2016

Substitute teacher enjoys her classes

(Story/Media)

Sep 23, 2016

Freshmen share opinions about school

(Story/Media)