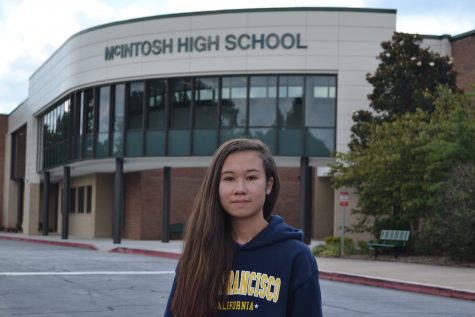 Junior Caitlyn Kinard enjoys writing, debate, and politics. Her extracurricular activities include being a part of the Debate Club, and she is also the president of the Young Libertarians Club. Caitlyn mostly looks forward to debate tournaments during the school year. Her decision to join journalism was to further improve her writing.
 Caityln's love of writing makes English her favorite subject.
Her hometown is a small rural town called Templeton, California. University Of Georgia is her first choice when it comes to colleges because she wants to pursue a career in law. Socially, she considers herself as an introvert because she is shy and quiet. Caitlyn is most looking forward to writing about politics because of her love of debate. Caitlyn's different perspectives on topics is something she can bring to her journalism class.
Marley, Caitlyn's dog, was named after the famous movie, "Marley and Me," which is a movie about a family that creates a special bond with their dog. Three emojis Caitlyn would use to describe herself would be the laughing face, crown, and the panda.  She is very passionate when it comes to social equality. Ben Shapiro is her inspiration because of his career in journalism and how he reports on  debates.
Caitlyn has a part time job at Grazing Here, a popular grill, where she works as a hostess. 
Caitlyn Kinard, Staff Writer
May 15, 2017

Debate team celebrates end of season

(Story/Photo)

May 15, 2017

Students respond to the American Health Care Act

(Story)

May 03, 2017

Debate class starts final one-on-one tournament

(Story/Photo)

Apr 19, 2017

Seniors give freshmen advice on EOC testing

(Story/Photo)

Apr 12, 2017

Students give personal speeches in debate class

(Story/Photo)

Mar 29, 2017

SkillsUSA wins at state competition

(Story)

Mar 20, 2017

Key Club helps children with Yuda bands

(Story/Photo)

Mar 13, 2017

SkillsUSA competitors work on events for state

(Story/Photo)

Mar 08, 2017

AP U.S. History students throw Depression party

(Story/Photo)

Feb 06, 2017

SkillsUSA wins at regional competition

(Story)

Jan 30, 2017

SkillsUSA prepares for regional competition

(Story/Photo)

Jan 26, 2017

Debate class organizes mock trials

(Story/Photo)

Jan 18, 2017

Students attend AP night

(Story/Photo)

Dec 15, 2016

AP language students celebrate "Scarfsgiving"

(Story)

Dec 15, 2016

AP art paints for charity drive

(Story)

Dec 12, 2016

English classes donate books to students in need

(Story/Photo)

Nov 10, 2016

Students react to second presidential debate

(Story)

Oct 06, 2016

Libertarian club increases political involvement

(Story/Photo)

Sep 20, 2016

Foreign language students recite poems

(Story/Photo)

Aug 23, 2016

Debate class starts first round of tournaments

(Story/Photo)