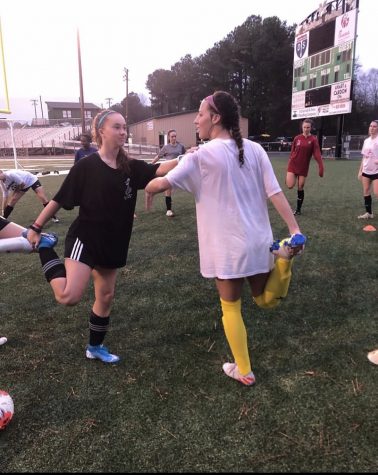 The spring season is just around the corner as well as the sports played in them. Tryouts for baseball and soccer were held this week and teams will be finalized soon.
Boys soccer tryouts are being led by varsity head coach "Bunky" Colvin, assistant coach Brian Messer, junior varsity coach Drake Dale, and freshman coach Michael Grabhorn.
"We lost a lot of good seniors last year so going into tryouts I was a little worried about who was gonna be able to step up and fill in those gaps," said varsity captain Luke Giordano. "There are some young guys that have shown promising talent and impressed all of us. We are excited for another good season."
Girls soccer tryouts are being led by varsity head coach Casey Kreitner, assistant coach Luke Kreitner, and junior varsity coach Michael Davis.
"We have been extremely impressed by the high level of talent at tryouts this week. It's amazing to see the skills, fitness, and work ethic these possess is very exciting" said varsity head coach Casey Kreitner. "It's going to be an awesome season!"
The baseball tryouts are being held this week through next Monday. The schedule is split between grade levels. Eighth graders and freshmen tried out at the beginning of the week while sophomores, juniors, and seniors are on the field from Wednesday until the following Monday.
Players are expected to showcase their ability to hit and field however the weather caused the field to flood therefore most of the tryouts are being held in the indoor McIntosh practice facility and on the turf field that Home Plate Baseball owns since it dries faster than an ordinary dirt field.
"The infielders have been at a disadvantage because they haven't been able to really get on the field," sophomore, Marco Maloney said.
In reaction to the weather head coach, Tom Kelly, decided to extend the tryout days to include Martin Luther King Day.