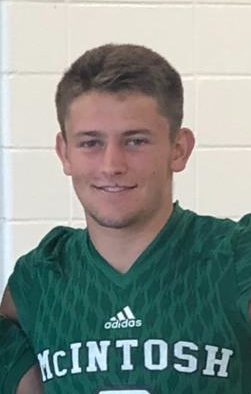 Kamryn Torr
Dane Kinamon, senior captain quarterback for the Chiefs varsity football team, was recognized with this year's first Athlete of the Week by football coach Lee Belknap. Kinamon has played football for 11 years and is entering his fourth and final year playing on the varsity football team for the Chiefs.
Prior to the season starting this summer, Kinamon knew that as a team they would need to improve on executing every play and finishing every drive. By the end of the season, Kinamon hopes to execute the game plan for each game and play harder.
With this year's team, Kinamon enjoys the fact he has played with the majority of them since middle school and they are a tight-knit team. Although the Chiefs have started the season off with 2 tough losses to Mundy's Mill and Riverwood, the team's goal for this season is to finish the season strong and make it to the playoffs.
"The best thing about Dane being our team's leader is that he always leads by example and refuses to quit. On and off the field he's someone that everyone seems to get along with and they enjoy being around, and his humility is what makes him so easy to get along with," sophomore Ben Anderson said, "Dane doesn't take full credit for anything and usually always puts others before himself. He's a great friend and a great leader, and someone our team is lucky to have."
Kinamon's role models consist of his older siblings: Derek, Tori, and Duke. Derek was a boxer at the Air Force Academy, Tori was a gymnast at Brown University, and Duke plays baseball at Stanford University.
"My brothers and sister are my role models because of how hard they work and how they play the game," Kinamon said.
Towards the end of his junior year, Kinamon committed to play football at the Air Force Academy.
"My dad played football there and my brother went there. I like the way they play and the way the coaches are," Kinamon said, "I also grew up going to sports camps there."
After being on the road the first two weeks of the season, Kinamon and the Chiefs will host Henry County for the first home game of the season on Friday, August 31.
Kinamon said, "It's always fun playing in front of the home crowd and there's a little more energy playing at home."