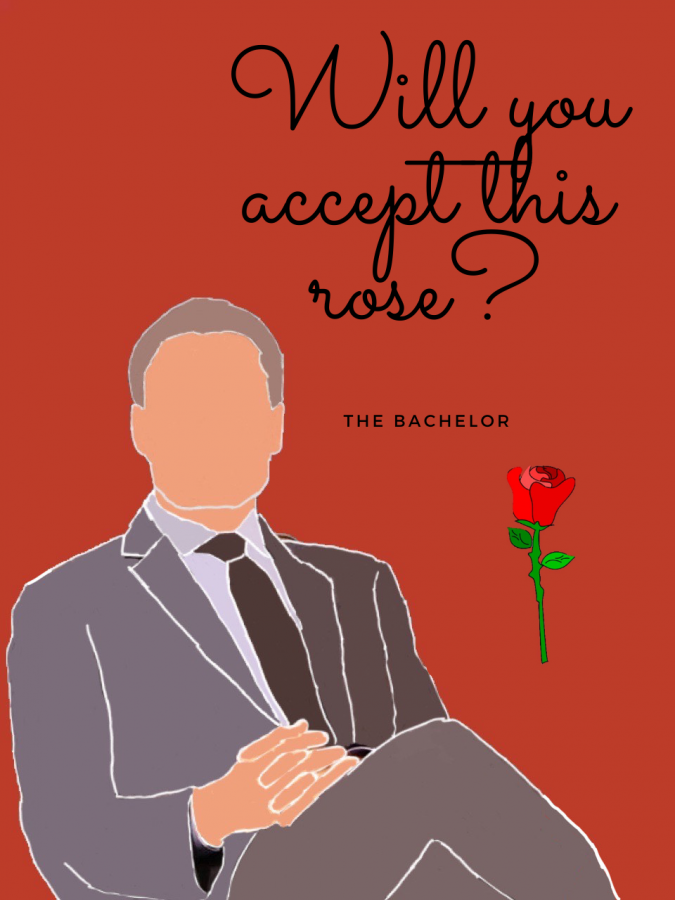 Created by Jordyn Mobley
"The Bachelor" made history this year by casting Matt James as the bachelor of Season 25, the first Black male lead on the show. James had a record breaking number of women apply to be a part of his season and he had one of the most diverse group of women, many of them being classified as a part of the Black, Idigenous and People of Color (BIPOC) group.
In the past six weeks, one of James's contestants, Rachael Kirkonnell, had been called out for racist actions in the past such as attending an old-south themed sorority party and liking pictures of two of her friends posing in front of the Confederate flag. There are also allegations against her made by a woman on TikTok saying that Kirkonnell made fun of her for liking Black men, which is really confusing considering that she applied to be on the first Black bachelor's season. The first Black bachelorette, Rachel Lindsay who was on Season 13 of "The Bachelorette," conducted an interview with the Bachelor franchise host, Chris Harrison. Lindsay asked him questions surrounding the allegations towards Kirkonnell and it was concerning what he had to say.
Harrison responded to Lindsay's questions by asking for grace for Kirkonnel. Harrison said, "I saw a picture of her at a sorority party five years ago and that's it. Like, boom. Like, 'OK, this girl is in this book now and she's now in this group,' and I'm like, 'Really?'"
He then questioned if Kirkonnel's actions were a good look in 2018 (when this party occurred) or if they were just a bad look in 2021 because more people had time on their hands to expose individuals for racist actions. Well, let me tell you Chris Harrison; it is not a good look ever.
Harrison's comments were extremely frustrating and difficult for me to comprehend. First of all, it is not his responsibility as a white man to forgive Kirkonnell's actions because her actions are not offensive to him. To be honest, I cannot understand why she deserves to be forgiven because she has not shown anything to prove that she is remorseful for her actions. Until she decides to be accountable, there is no reason why people of color should forgive her.
Second of all, to say that her actions could have been excusable in 2018 is complete ignorance. He claims that we look at racism through a different lens in 2021; and we do, but it is a lens that black people have been looking through for years. Racism has been prevalent in America since the creation of this country. Since the events of the summer of 2020 with the murder of George Floyd and the Black Lives Matter movement, people are now choosing to start holding others accountable for being racist, and rightfully so. However, this issue should have been acknowledged in 2018; actually farther back than 2018.
I am also upset on how he kept referring to the people calling Kirkonnell out as "woke police." I interpreted that as him being upset with people who are aware; and if that's the case, then he needs to get with the times. The amount of times that Harrison said that phrase was eye opening and I only say this because I would never expect those words to come from him. He woke up that day and decided to tell us how he truly feels and I appreciate him for that, because I'd rather know a person's views upfront instead of them hiding who they really are.
I find it extremely disrespectful that production saw it fit to allow her to come on this season knowing that their lead was a Black male. This tells me that they do not look far into people's backgrounds. I can not imagine what James is going through, especially since it seemed like she was a front runner throughout this season. I also find it extremely disrespectful that Harrison would defend her, especially since there are so many people of color who come on this show in order "to find love," who he claims to be friends with. Bachelor franchise has had racism issues in the past because a contestant on Lindsay's season, Lee Garett, had been exposed for tweeting racist things prior to participating on the show. It was confusing for a lot of viewers as to why he would be on Lindsay's season because she was a Black woman.
I have the utmost respect for Lindsay. She continues to speak out against discrimination in the Bachelor franchise and she is the main one who holds other members of the Bachelor franchise accountable for racist actions. Nonetheless, there are more people who need to step up because it is not fair for her to bear that burden alone. If the people associated with this franchise realize that production continuing to enable racism is wrong, then they should acknowledge it. I do not want to make it seem like I am forcing anyone to speak out; I am simply asking them to stand up for what is right.
I am truly disappointed on how this was handled. I am disappointed with Kirkonnell for not addressing the situation in a timely manner and I am disappointed with Harrison for trying to make her actions excusable. Moments like these really show how far society needs to progress in order for every race, gender, sexuality, religion and so on to be equal. It is 2021 and we are still fighting systematic oppression against people of color. People like Harrison and Kirkonnell need to educate themselves on what racism really is. I am sure that they do not think they are racist, but their words and their actions speak otherwise. I am tired of hearing excuses. I am tired of people walking the thin line of disrespect. Enough is enough. Accountability is necessary. It is time that we educate ourselves and we educate one another.