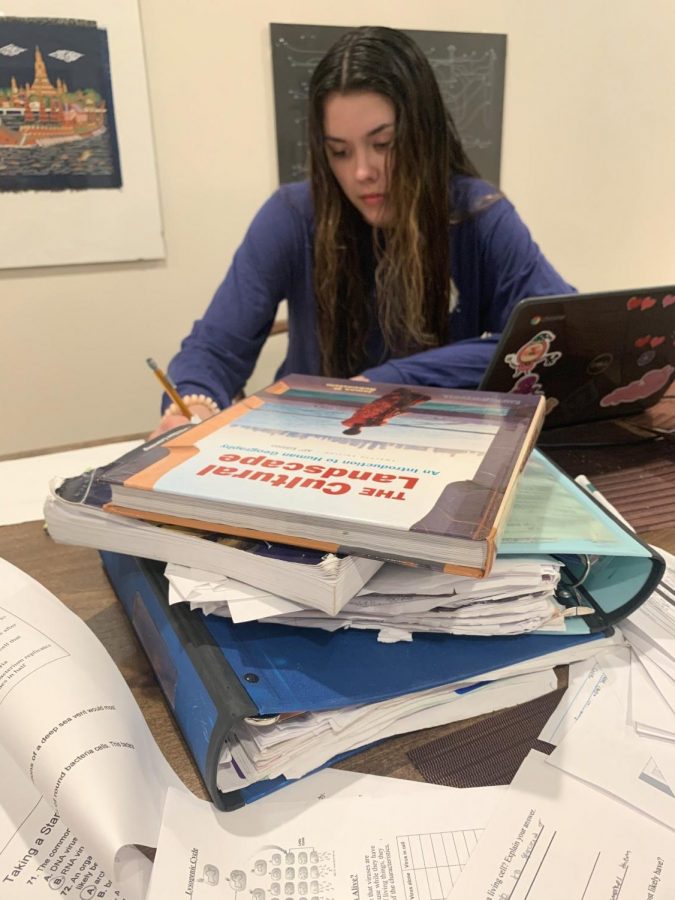 Adelaide Barrett
As students attempt to manage their own time and stay on top of seven classes' worth of work, unclear expectations from teachers and administration are causing unnecessary stress in a time of anxiety and global uncertainty.
On Mon., Mar 16, Fayette County Public Schools transitioned to a temporary state of virtual learning. According to the Fayette County Board of Education website, schools will remain closed through March 31st in compliance with Governor Kemp's executive order. However, it is not clear whether schools will reopen on April 1.
In my experience, the early stages of virtual learning have been complicated and confusing. Each of my teachers uses a different online platform and a different way of communicating with us. Over the past four days, I've received emails, Remind text messages, Blackboard announcements, Slacks, and Infinite Campus messages. My teachers hold virtual office hours through Zoom, Blackboard Collaborate, and, in the most dire of instances, Facetime.
Amongst this flurry of communication, I have received one email from Dr. Lane. The email, entitled "McIntosh High School Virtual Learning Expectations," contains information regarding internet access and online learning during this extended absence. In one paragraph, Dr. Lane expresses that "flexibility is the name of the game during these unprecedented times." The email does not, however, explain to students how much time they should spend on school work per day.
According to several of my teachers, the virtual learning set-up consists of an expectation of two to four hours of schoolwork per day, with each day set aside for a particular subject or set of subjects. For example, an email from my fine arts class states that "Wednesday is the day set aside for you to work on electives course assignments." However, this schedule has not been clearly communicated to students or adhered to by teachers, causing even further chaos and confusion.
"Since we have started digital learning, I feel the teachers have not been sticking to the schedule given," said sophomore Emma Bellantoni. "I have two-four hours of work for English due Monday, but then I have math, chemistry, etc. all due as well. My main concern with that is finishing the amount of work while also getting good grades and not drowning at the same time!"
Other students have been able to manage their workload this week, but still face uncertainty in some classes.
"Most of my teachers have given me a list of things to have completed by the end of the week," said sophomore Natalie Spellman. "I do worry about keeping up with my work but so far I have been able to get all my work done. Although, my math teacher has so far only sent one email saying he will keep us posted and assign things to us later."
This transition to virtual learning comes in the second half of the spring semester, when most classes are preparing for end-of-course exams. Georgia Milestones have been cancelled for the year. However, the CollegeBoard website states that "the AP Exam administration remains as scheduled for schools that will be open on May 4–8 and 11–15." As we operate under the assumption that McIntosh will reopen prior to these dates, students face an overwhelming quantity of coursework to master from their own homes as the Covid-19 pandemic sets a gloomy, distracting backdrop.