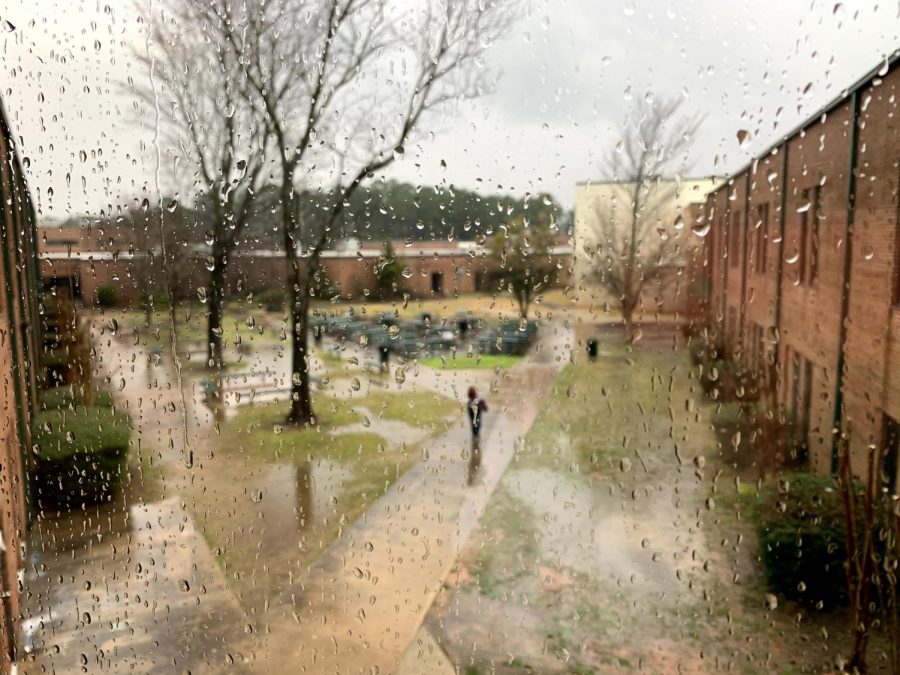 Yunju Lee
Last year, on Thursday, March 12, everyone went home, not quite knowing what to expect. That day, FCBOE announced that students and teachers would not go back to school for the rest of the school year starting from March 13.
It has been one year since the start of the lockdown. Around this time last year, people were grabbing toilet paper off of the shelves, tennis and soccer games were getting rained out and the first American man had just died from COVID-19. No one knew exactly when schools would go virtual, but many teachers and students expected that schools would close soon.
"Maybe not a month before, but as it got closer, it seemed more likely," said English teacher Jennifer Scott.
"I did not expect us to go virtual during the school day, but afterward we started hearing about school closings a lot more in the news," said senior Priyam Kadakia. "That's when I started suspecting a school closing."
For most students, March 12 was a normal day after school. Some were resting, studying, watching Netflix, scrolling through social media or doing other activities outside of school.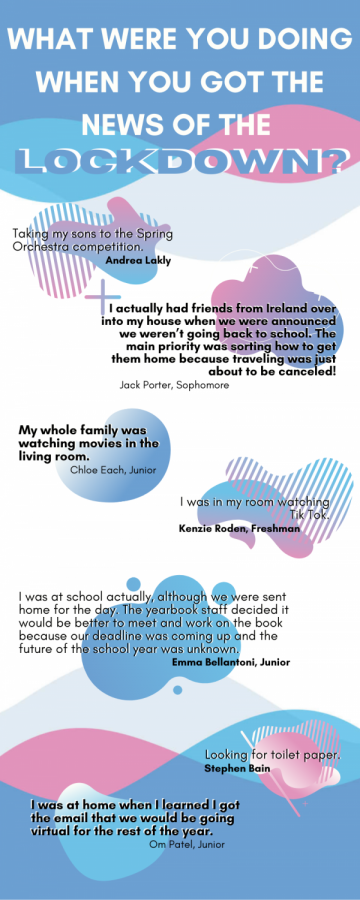 "I was in the middle of putting on my pointe shoes for pointe class when my friend ran into the studio and told us that school had been canceled for Friday," said senior Amy Buckalew. "At the time we were all really excited to have some time off, but I don't think we would have had the same reaction if we knew school would end up being virtual for the rest of the year."
"Me and my team had just won an away lacrosse game 11-4," said junior Antonia Perciaccante. "Our coach was congratulating us and announced that we wouldn't be at school for a while and that she wanted us to stay at home just in case COVID got bad."
While many expected that schools would eventually go on lockdown, many did not expect for schools to go on lockdown for the rest of the school year.
"I expected [the lockdown] because of the cases increasing in Georgia," said junior Samuel Ramos. "It caught me off guard at first because I returned from a regular school day to being quarantined for the rest of the school year."
"I was surprised school abruptly ended," said English teacher Lynne Bruschetti. "I thought we would finish the week."
The transition between in-school and school virtually differed for everyone. For most students, they began to lose motivation as time went on.
"I liked it," said freshman Kenzie Roden, "but eventually I lost my motivation."
"The transition was rough," said junior Jason Keil. "Many of my teachers were still learning how to arrange Blackboard in a way that could be used effectively, and it made it very difficult to properly see and complete all of my assignments. Physically, the work got a lot easier, but mentally, it was a lot harder on me."
However, some students enjoyed not having to go to school every day.
"I liked being at home because I didn't have to wake up as early and I could finish all my school work in less than 2 hours," said freshman Autumn Brown.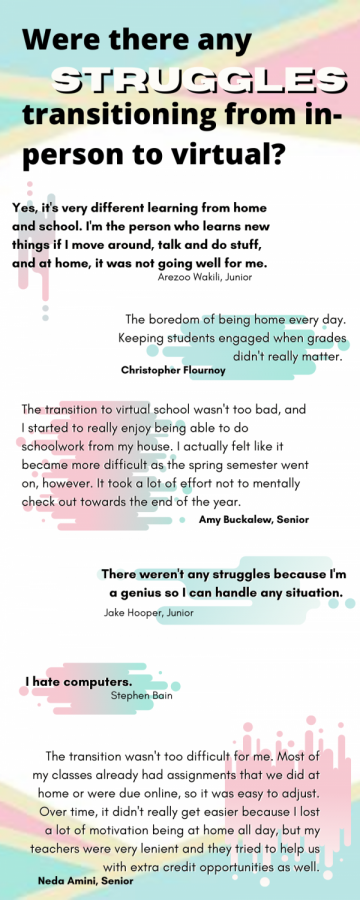 "Finding the motivation to do school work at home was hard," said junior Alexa Breakstone. "Since the summer felt much longer because we had the option to stop doing our work and keep the grades we had, coming back to school in August was also hard. I didn't do anything except hang out with friends for a whole four months so school almost felt optional. I knew it wasn't but I just got out of the mindset that school should be the only thing that matters. I honestly just became quite lazy, and it took me a while to get back on my feet. I also think I just got too used to not doing anything. and I enjoyed relaxing more than doing school work."
Teachers also struggled to adjust to the switch from in-person teaching to virtual teaching, especially with learning how to work the technology and finding ways to keep students engaged.
"Especially at the beginning," said math teacher Arthur Walton. "Technology issues; the ability to get all students to participate, the ability to reach all students, the ability to create lessons as good as in-person instruction. In what ways do you provide opportunities for students to ask questions. How do you ensure assessments are reflective of student knowledge? And so many more…"
"When I look back," said junior Hayley Davis, "I realize that it is so much easier to learn in person than virtual. I appreciate my teachers more now than I did back then."
We have come a long way since the start of the lockdown last year. People now know preventive measures that can be taken to limit the spread, such as social distancing and wearing face coverings. In addition, there is now the emergence of vaccines in many countries. As one year passes, people have started to look back on the start of the pandemic.
"I wish I'd appreciated my ability to go out and spend time with friends before the lockdown," said senior Neda Amidi. "I don't think I took full advantage of that, so when we went into lockdown, I got tired of being at home really quickly. Other than that, I don't think I really wish I'd done anything differently. I couldn't have changed what happened, so there's not really a point in regret."