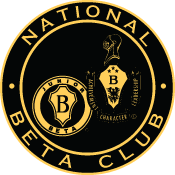 Beta Club inducted its new members for the 2019-20 school year in the auditorium on Tues., March 19.
Beta Club is a service-based club focused on academic achievement, character, service, and leadership among students. The club inducts new members during the second semester of every school year. This year, 30 students were invited to the ceremony.
"Students must have at least a 90 average to be invited to join," said history teacher Courtney Vieira. Vieira and Alysa Johnson, an English teacher, are the two sponsors of the club. "To remain active, they must maintain a 90 average and complete 10 hours of community service each semester. The aim of these volunteer hours is to serve our community and give back in any way we can."
Students at the induction recited a pledge; they pledged to maintain the principles of honesty, morality, service and leadership. In addition, they promised to cooperate with other members and hold responsibility for the school, community, state and nation.
"[We discussed] all the principles of being a Beta Club member, such as being honest, trustworthy, responsible, and hardworking," said junior Enara Dharani, one of the current Beta Club vice presidents.
In addition to the new members, the officers for the next school year were introduced as well. Dharani and fellow junior Jennifer Deng, the current co vice-presidents, will be joining again next school year. New officers are sophomores Libbie Larsen, Priyam Kadakia, and Kotoe Takeda. Official titles have not been decided yet, as sponsors are currently reorganizing the structure for next year. Both the current officers and the new officers helped sponsors run the ceremony.
"Beta Club has always been my main extracurricular activity," said Takeda. "It's where I noticed my passion for helping others. Now I want to give back to the organization and help others find their passion as well."
Officers helped light the five candles at the ceremony. The white candle, which represents light, purity and faith, was lit by senior Brooke Raniere, one of the co-presidents. The other president, senior Utkarsh Singh, lit the red candle which represents fellowship. Deng lit the blue candle which represents loyalty and the black candle was lit by Dharani. The black represents honesty, tolerance and dignity. Finally, the golden candle, lit by Larsen, represents warmth, friendship, and faithfulness.
"At the ceremony, I helped lead the traditional lighting of the candles, that all represent key pillars of our club, inducted new members, and held a reception ceremony in the lobby for the inductee," said Raniere.
After the pledge, new members walked up to the stage and shook hands with Johnson, Dr. Lane and the officers. Students gathered in front of the auditorium to receive their certificates and chat with the officers and other inductees.
"Ms. Johnson and I believe that exemplary student effort and achievement should be encouraged and rewarded," said Vieira. "We want to cultivate the ideals of service and leadership in our students to prepare them to become engaged citizens with a strong voice and will to help others, long after their high school days are behind them."