The Steel Skeleton: MHS construction on schedule
Hang on for a minute...we're trying to find some more stories you might like.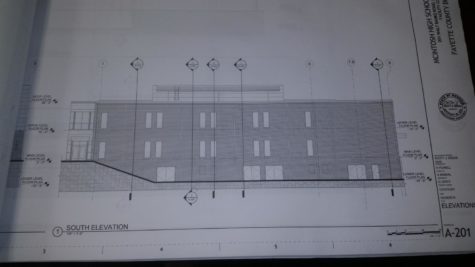 Deep into the first three months of school, construction at McIntosh has been booming (minus any use of dynamite). The clay ditch that had been sitting in the courtyard has been replaced with a concrete foundation and steel support beams have been added to the new wing. Once the steel started going up it truly began to show the magnitude of this structure.
McIntosh Principal Dr. Dan Lane meets with the construction architect and project manager nearly every week. There have been no reported injuries or issues with weather despite all the hurricanes and recent tornados passing through Georgia. "The structure is on schedule, granted I think we've slowed down a little with rain," said Athletic Director and Assistant Principal Stacey Smith. There even was a surprise pipe found that pushed the renovation a month behind. However, the team from Carroll Daniel Construction has been out working for hours each day to finish the structure successfully.
Recently, concrete blocks have been stacked to serve as the wall foundation. Interior designers came in a month ago and chose tiles and cabinets for the twelve new classrooms. The structure's exterior is nearly complete, with the outer walls still needing to be placed.