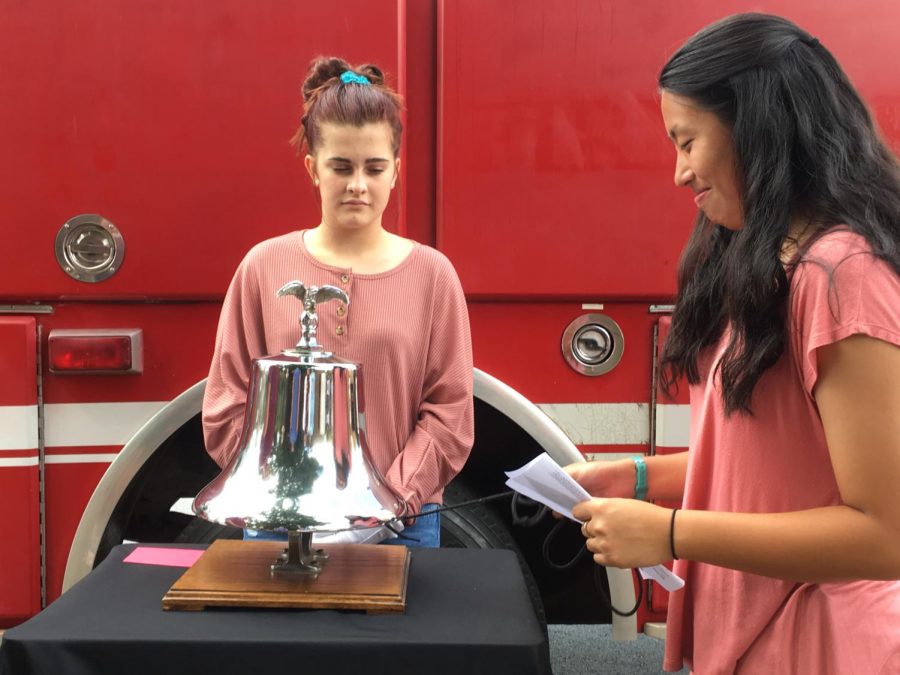 On Tuesday, September 11, Mrs. Lynne Bruschetti's English classes commemorated the 17th anniversary of 9/11 with a fire truck.
"Instead of telling [the students] about firemen, I wanted [them] to spend an hour with a fireman," Bruschetti said.
Bruschetti's husband is a firefighter. She wanted students to see her husband's fire truck as a symbol of the heroes that day. Students looked at pictures, read pieces of writing, and listened to stories about 9/11 outside. "The most memorable thing for me was when Mr. Bruschetti said that on the day of 9/11, all the fireman got on the trucks in some way, whether by hanging off the sides or squeezing in the back, just to go save the people," sophomore Kotoe Takeda said.
Students also held a bell ceremony for the dead. They read names out loud and rang a bell three times after each name to remember and honor the people.
"The atmosphere was solemn," sophomore Nadia Post said. "Everyone was silent and listening to the names."
During the last few minutes, students were allowed to explore the fire truck and handle gear. Students got to climb on top of the fire truck and enter the cabin. Her husband also brought uniforms and tools such as hoses and axes that the students could test out. Bruschetti wanted her students to not only hear, but experience and see 9/11 from a different perspective.
"Teaching about 9/11 is significant because events mold who we are," Bruschetti said.