California Still Recovering from Mudslides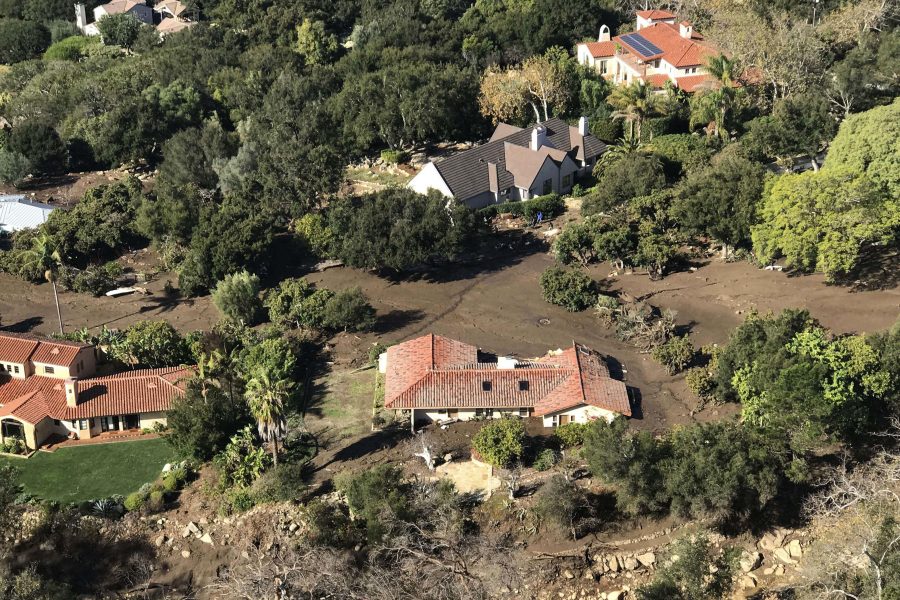 Jack Vaughn, Features Editor
January 31, 2018
Triggered by torrential rain, mudslides have been devastating southern California. Foremost, the tragedy has killed at least 20 people and left 3 people unaccounted for. In addition, 600 people reached out for help against the mudslide. Rescuers have attempted to save these people in peril, but accessing the stranded citizens proved difficult. Closed roads, such as US 101, have limited access to parts of Montecito and Santa Barbara, and entire neighborhoods have been trapped. For example, 300 people were trapped in a Romero Canyon subdivision.
These adverse conditions have forced rescuers to adapt from traditional tactics. Local first responders are not equipped to deal with such severe flooding, so the US Coast Guard has aided evacuation efforts. To avoid the debris-covered roadways, The US Coast Guard flew helicopters into affected regions to rescue people stranded on rooftops. In one instance, rescuer Erin Custer helped save a family of five and their two dogs after their house was overcome with around 3 feet of mud.
However, these mudslides were not entirely unprecedented. After wildfires killed most plant life in the area, Santa Barbara County was left defenseless against flooding. Moreover, the a high chance of precipitation preceded the devastating environmental disaster.
Now, rescuers are attempting to locate the three missing Californians: John Cantin, Faviola Benitez Calderon, and Lydia Sutthithepa. Lydia Sutthithepa's father Pinit Sutthithepa was found deceased on Saturday, but his two-year-old daughter still remains unaccounted for. Luckily, the weather the rain has stopped, significantly helping rescue efforts; nevertheless, navigating damaged roads has proven difficult.
McIntosh students voiced their sympathy for the affect families of the mudslides. Senior Rahul Sunkara said, "I'm really worried about California; they can not catch a break. I used to live in Orange county which is only three counties over [from the Thomas fire]"
Similarly, senior Kalie Ward worried about the fate of California. She shared, "I am looking at the University of California San Diego, and I visited a couple of months ago. When I was in California, the fires has just started. I hate to see those fires still causing other problems for Californians. I can only hope that there are not any more deaths."
These students are not alone in their concerns for the threatened people. Direct Relief and the National Disaster Search Dog Foundation are accepting donations to help the mudslide victims. Along with the local rescuers, these humanitarian organizations are working to solve this ruinous problem.