National Honor Society Collects Jeans for Rachel's Ray of Hope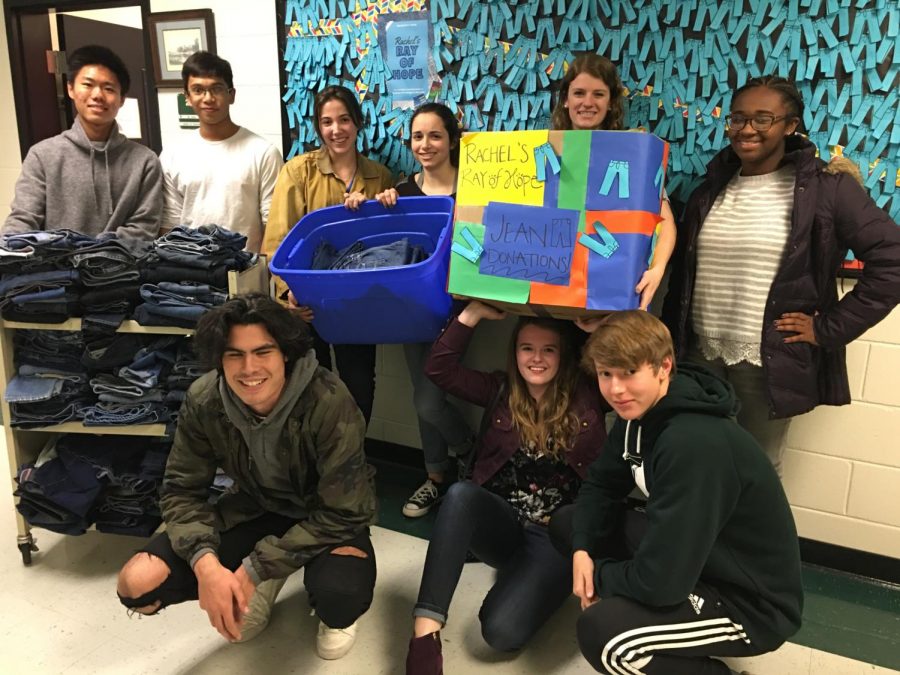 Katrina Skonberg and Samantha Cornett, Staff Writer and Sports Editor
December 1, 2017|152 Views
This fall, National Honor Society held a jeans drive for a charity called Rachel's Ray of Hope, which is located in Fayetteville.
Rachel's Ray of Hope was created in memory of Rachel Canella, a friend of Mrs. Lloyd's daughter, who tragically passed away in 2013. The aim of the charity is to help young people throughout the Fayette County community whose families may have fallen on hard times.
Mrs.Lloyd said, "She was a lovely young lady with a kind heart and an amazing spirit. I was happy to provide McIntosh students the opportunity to learn about Rachel and this wonderful organization, and I am so very proud of the way in which they responded. We absolutely have the most generous students in the county."
Students and faculty brought jeans to a box located in Mrs. Lloyd's room. In lieu of jeans, others donated money towards the cause. Whenever someone donated to the cause, they received a paper cutout of jeans to hang up on a bulletin board across from room 214, along the English hallway. The jeans drive began Monday, October 30 and ended Friday, November 17. Mrs. Lloyd said the service project was more successful than they had expected. The club collected several boxes of jeans in a variety of sizes and received $700 in donations.
Rachel's mother said, "I'm continuously overwhelmed by the generosity and support from the community but it touches my heart so much when students take the time to give back and help fellow classmates. Even more importantly, it makes my day knowing that Rachel's friends still share stories about her. The greatest gift is knowing that she still lives on in the hearts of many. I can't thank you enough for helping out with this fundraiser. Boy, we sure needed some jeans."
NHS members Sam Ellis, Caroline Cameron, Delaney Baro, and Grace Erilnger were responsible for creating and displaying the posters, making the collection boxes, and filming the commercial that aired on the morning announcements.
"All members of the National Honor society were expected to participate," said Mrs. Lloyd. "Ms. Walls and I, [the NHS sponsors], selected the charity, completed the necessary paperwork, collected the donations, and arranged for pickup of the donations."
Freshman Taylor Donaldson said, "I think it is a great cause that really makes McIntosh stand out as a school."
Senior Sam Ellis said, "It is a really good cause that really shows McIntosh's support for the less fortunate people in the community around us. I am thrilled to be a part of the process of donating the jeans for Rachel's Ray of Hope."
If you are interested in doing more to help Rachel's Ray of Hope, you can find more information on their website here.