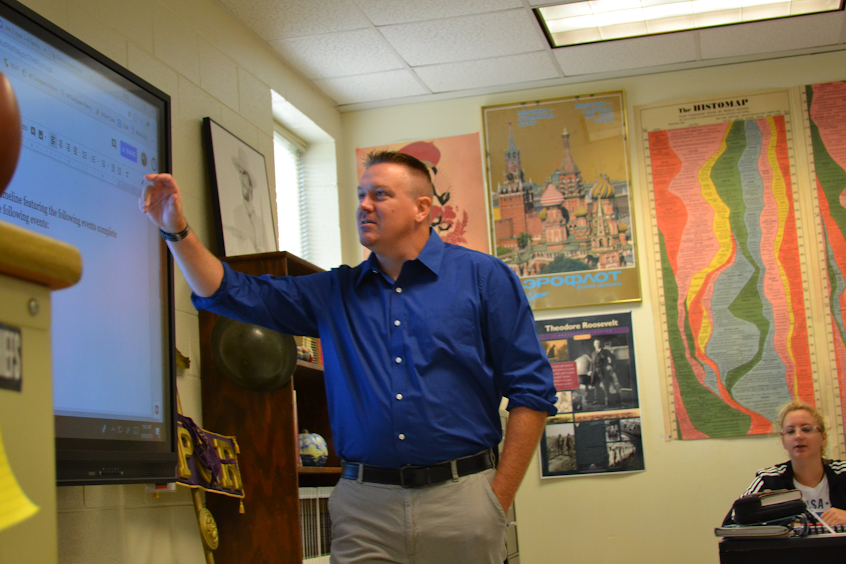 Samantha Cornett
David High, fourth year teacher at McIntosh, has now taken over the teaching position of AP European History. He has taught U.S. History and World History in the past. He also was McIntosh's school resource officer for four years prior to becoming a teacher.
The administration decided to give the class to High in order to have a chance at increasing the number of students taking it. High adds that "My students perform well and it appeared I was helping them grow and develop. Since Mr. Clink is teaching
AP Psych all day, they asked me if I was interested." High added, "I like the content and one area I really like is Russia and the important parts we learn in Euro not World history."
Along with enjoying the content area, he liked the idea of an opportunity to deal with different students. The class is an elective, so he believes it's kids that want to learn it and will be motivated during the class. He also explained that since the AP test is more difficult than a milestone, you have to do more to prepare the students. He adds "you can ask more of AP students generally."
Although this year he only has 14 students, High says he prefers having 22 to 23 student in his classes. He said "It's enough where you can communicate with everyone, but not too many people to where you can't have a decent discussion."
High believes that since World studies lots of European history as well that he has taught a European class before. For him, World history is more of a consolidated block of European history.
Along with teaching AP Euro, he gave up teaching U.S. history. High exclaimed that "I liked teaching the junior class but I prefer world history content more than U.S. since the time period is tiny and it includes reconstruction, which I personally hate."