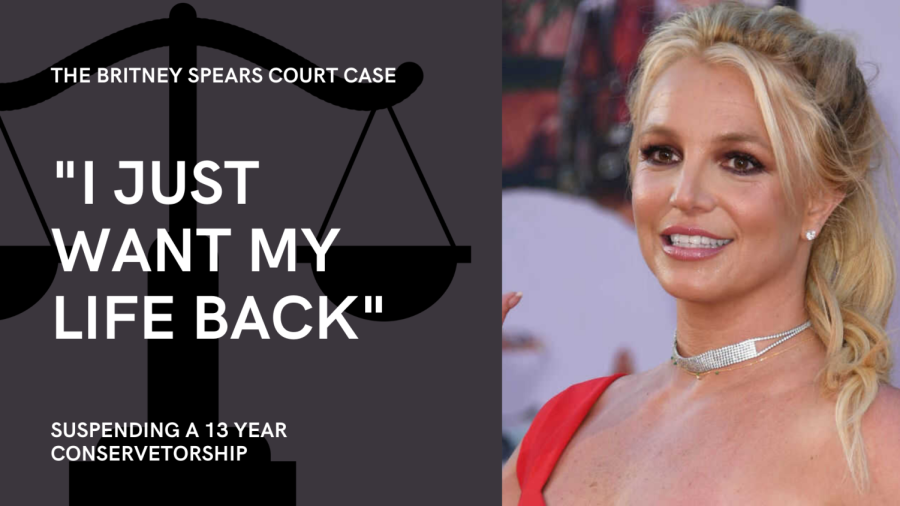 Chloe Torrechilla
For the first time in 13 years, 2000's pop star Britney Spears will finally be without her father's oversight. After a court hearing on Wed., Sept. 29, Jamie Spears' conservatorship with Britney was suspended by a Los Angeles judge and another hearing will be held on Nov. 12 to decide whether to terminate the conservatorship or not.
After Britney's public meltdown in 2008, where she shaved her head and attacked the paparazzi. She was admitted into a psychiatric hospital and her father, Jamie Spears, was granted control over her financial and personal affairs by a court ordered conservatorship. He was granted a full conservatorship, where the conservator gained full control of the conservatee's financial decision. A conservatorship is granted to adults who can't make decisions on their own because of physical or mental limitations. After being admitted to a psychiatric hospital twice, she was placed under her father's care in Feb. 2008 until her father decides to terminate the conservatorship.
Since then her father has controlled her relationships, her work, her spendings, her medications and even had a say on whether she could have children or not. Britney has made it clear that she feels like Jamie was abusing the conservatorship. In her first hearing on June 23, Britney said, "Anything that happened to me had to be approved by my dad" and added "I just want my life back."
During her hearing on June 23, she gave a 24 minute long testimony to Judge Brenda Penny. In her testimonies, she claims that her father forced her to take strong medications such as lithium if she declined work and that she wished to have another child but wasn't permitted to.
"The main reason why I'm here is that I want to end the conservatorship without having to be evaluated," says Spears. "I deserve to have the same rights as anybody does, by having a child, a family, any of those things, and more so."
On Wed. Sept. 29, Judge Brenda Penny granted the petition by Britney Spears' lawyer to suspend Jamie Spears as the overseer of her $60 million estate. "This man does not belong in her life, your honor, for another day," said Mathew S. Rosengart, Britney's lawyer "Please hear the plea of my client."
Many fans of Britney Spears waited outside the courtroom to show support for the pop star. The #freebritney movement on Tiktok and Twitter made rounds around the world showing concern for her and her mental wellbeing.
"I feel really bad for her, I feel like she can make her own choices, because she's like an adult already," says freshman Kenda Zitle.
Mr. Rosengart pleaded to end the conservatorship, but Judge Penny decided to suspend the conservatorship as "The current situation is not tenable," Judge Penny said. Mr. Rosengart requested another hearing in 30 to 45 days to discuss terminating the conservatorship entirely. The next hearing is scheduled for Nov. 12, where the Judge can finally decide whether or not to remove Jamie Spears as Britney's conservator.