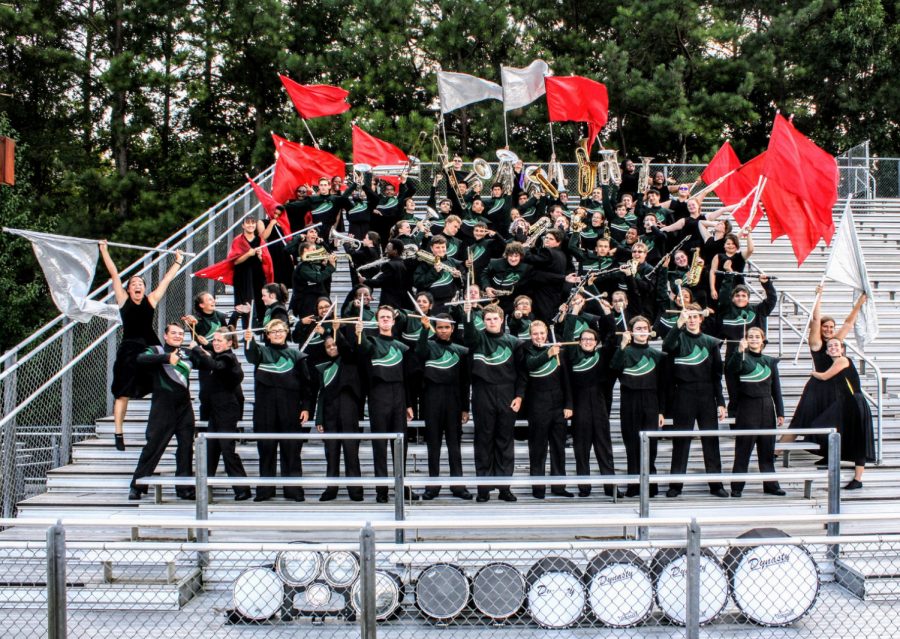 Picture from mcintoshbands.com
Recently, the Spirit of McIntosh marching band delivered announcements regarding the upcoming season, including the new drum majors and the theme for the 2019 show.
The 2019 drum majors were announced via email at the end of April. Rising senior Rachel Cox will be the season's head drum major, and rising junior Elizabeth Wilson will be the assistant drum major. Cox has played alto saxophone in both concert and marching band, and has marched the mellophone for the past two seasons; Wilson plays the French horn in concert band, but has marched the mellophone and played in the pit.
"I'm super excited to take on the position of assistant drum major," said Wilson, "And I cannot wait for the upcoming season. Working with Rachel and the rest of the band is going to be an absolute blast."
Both had to go through the rigorous audition process along with the other 11 students that tried out for the positions, involving everything from practicing conducting to three highly ranked judges.
One such judge was Brad Manning, who was a McIntosh drum major that has graduated from the University of Georgia. He has judged McIntosh drum major auditions for several years. "Please pass along to all that auditioned how legitimately impressive each one was," said Manning. "This was the first year in my memory in which there really wasn't any runaway choice. I'm still so impressed that 13 qualified people auditioned."
"There were a lot of incredibly qualified and passionate students who auditioned," said Cox. "So being chosen has left me feeling equal parts shocked and honored, but I'm also very excited."
Band director Barbara Baker has also released the topic for the show's theme: the 2019 show will revolve around the concept of a day in the life of a pirate. The theme does not yet have an official title, as details regarding music and visuals are still in development while the directors study up on pirates and potential costuming.
The inspiration for the theme came from a file of potential show ideas that has been compiled over Baker's years as a director. "Pirates" has been in said file for a fair amount of time, but this season was the one that Baker chose to use it.
"The audience loves a good fight scene, and I just thought that our show needs that moment this year, and that this theme makes a good vehicle to tell that story," said Baker.
Baker has also hinted that the graphics design class will once again be collaborating with the marching band to design props. She said that she was most excited for the boat. "I think that can be amazing," said Baker.
"I think the theme gives an incredible opportunity for a complex and entertaining show, with diversity in its music, marching forms, and guard choreography," said Wilson. "Such a fierce show will allow for Rachel and me to create a unique and defined conducting style, too."
Band students are also excited to see what the future show holds; rising senior Jessica Henderson has marched baritone and percussion. She has tried out for basic leadership and was one of the 13 drum major candidates. "I am really excited to see what Baker and Amosu put together for the show," said Henderson. "It's an interesting theme I haven't really seen before, which excites me more for the upcoming season."
As with any other activity involving multiple people, there are always goals for the marching band. Looking toward the 2019 season, Baker said that she hopes to encourage unity and familial trust, and Wilson "will strive for a contagious, positive environment."
"My goal for the season," said Cox, "is for everybody to walk away at the end of the season with the sense of satisfaction and pride that they deserve, individually and as a band."