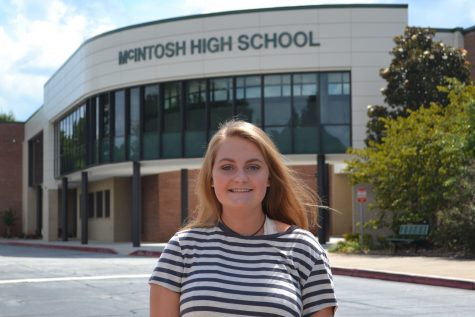 Freshman Sam Cornett (14) joins the journalism team for her first year as a high school student. Although her actual first name is Samantha, she prefers the more concise version: Sam. Born March 18, 2002, in Atlanta, Georgia, Sam has lived in the Peachtree City area her whole life, but she often spends her summers in North Carolina. However, she admits that she is looking forward to leaving Peachtree City after high school and moving on to do new things during and after college. As far as the college search goes, Sam is not sure of where she wants to go since she has just entered high school and is still getting adjusted, but she says she may be interested in Georgia Southern University, where her sister went, and the University of Florida. She is also not sure what she wants to do for a career after college because she is still learning what she likes to do.
Sam is extremely passionate about soccer. She currently plays for a local AFC soccer team, but she plans on trying out for the Lady Chiefs soccer team in the spring. Sam enjoys soccer so much that she currently has an internship with the Lazers soccer club, a local recreational soccer group. With this internship, Sam does everything from helping young players with soccer camps to setting up flags on the fields before games. She also says that United States' women's national soccer team player Carli Lloyd is her inspiration.
Sam decided to take the school's journalism class because the class sounded interesting to her, and she also took a broadcasting class in middle school that got her interested in the journalism field. Plus, she enjoys being able to write in a more informational style, and she is looking forward to being able to write sports articles for the McIntosh Trail.
Samantha Cornett, Staff Writer
May 23, 2017

Soccer teams celebrate end of the season

(Story)

May 16, 2017

Chorus hosts annual Spring Gala

(Story)

May 15, 2017

Lady Chiefs win back to back state championships

(Story)

May 12, 2017

Lady Chiefs soccer team advances in state playoffs

(Story)

May 12, 2017

Lady Chiefs compete in first round of state playoffs

(Story)

Apr 19, 2017

Soccer teams compete in battle for the troops

(Story)

Mar 24, 2017

Varsity girls soccer compete against Whitewater Wildcats

(Story)

Mar 24, 2017

Freshmen soccer teams travel to Rome

(Story)

Mar 09, 2017

Girls varsity soccer competes against Fayette County

(Story)

Feb 07, 2017

Varsity girls soccer team competes in first scrimmage game

(Story)

Feb 07, 2017

Chiefs host battle of the bubble game

(Story/Photo)

Feb 07, 2017

Varsity basketball team competes against Whitewater

(Story)

Jan 31, 2017

"Cinderella" cast holds tea party

(Story)

Dec 15, 2016

Dance team hosts annual Dancing with the Chiefettes

(Story)

Dec 15, 2016

Interact Club participates in Toys for Tots drive

(Story)

Nov 18, 2016

XC team places third at state championships

(Story)

Nov 14, 2016

Football team hosts annual pink out game

(Story)

Nov 10, 2016

Freshman moves up to varsity cheer team

(Story)

Oct 17, 2016

Football team hosts Fayette County for Homecoming game

(Story)

Oct 04, 2016

Chorus classes participates in International Day of Peace

(Story)

Oct 04, 2016

Freshman joins dance team

(Story)

Oct 04, 2016

Freshmen share insight on new football cheer season

(Story)